The natESM call for proposals is open to all German model-development groups in the field of Earth-system research.
Applications can be submitted at any time. Already accepted sprints can be found here.
The support service comprises up to 6 PMs per proposal (depending on the type and difficulty of the request) in the form of consulting and/or programming work by the natESM experts for high-performance and heterogeneous computing from DKRZ and/or JSC.
If you need advice before writing the application for a sprint, we offer you the service of a sprint check.

Hence, we distinguish between the following three categories:
Sprint check:    In case you're not quite sure what to do during a sprint and need advice before writing the sprint application (1-2 weeks).
Short sprint:     We support you with advisory activities or preparatory enquiries lasting less than 2 months.
Long sprint:      During a long sprint we collaborate on assigned special tasks with a term of up to 6 months.
Access to the model code and, if applicable, the documentation must be available for the technical assessment of the application.
Before submitting an application, please read the following PDF (1 MB).
Please, use our sprint-application template (.docx, 0,1 MB) and submit your application to support-request[at]nat-esm.de.
The assessment and support procedure will run as indicated in the following figure.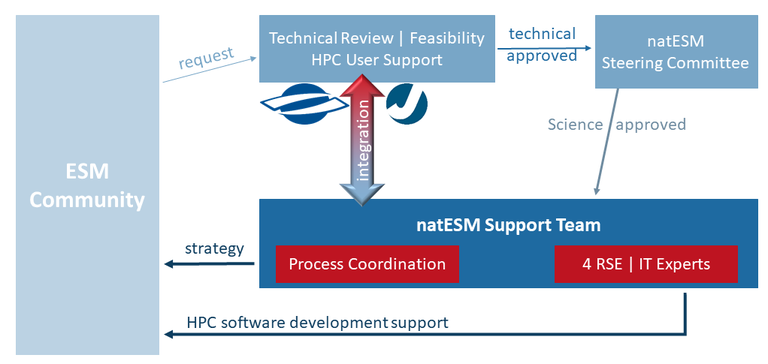 Questions?
Have a look at our FAQ or contact us directly at info@nat-esm.de.